COVID-19 and Taylor County School District Response
COVID-19 Community Testing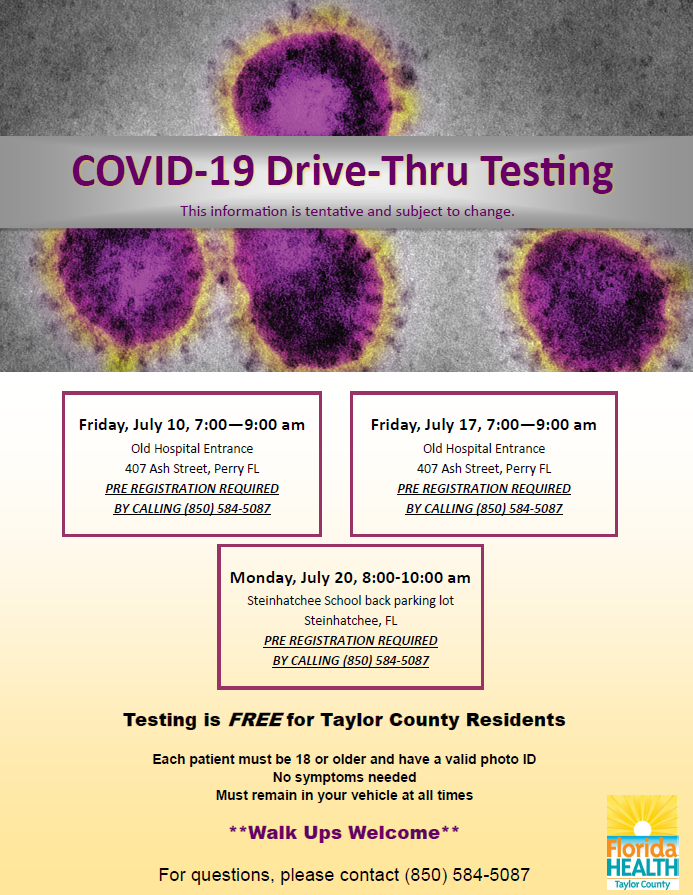 Emotional and Mental Wellness - April 23, 2020
General Information and Updates
Extension of Distance Learning - April 18, 2020
Today, during his 4:30 p.m. COVID-19 press conference, Governor Ron DeSantis announced that all Florida K12 public schools will continue with distance learning for the remainder of the 2019-2020 school year. No additional details have been provided at this time from the Governor's office. The Taylor County School District will work on a new plan and provide further information next week.

Thank you for everything you all are doing for our students. We will get through this together. You all have been amazing.
Respectfully,
Dr. Danny F. Glover Jr.
Tallahassee Memorial Healthcare Recommendations - April 9, 2020
1. All residents should stay home at all times, except for when engaging in essential activities as outlined in the Florida stay-at-home order. We would like to take these guidelines a step further by offering additional recommendations that have been clinically clarified as best practices for our community and beyond.
a. While religious congregations are not legally prevented from meeting, we strongly recommend those wishing to worship find alternative forums that do not involve meeting physically.
b. Whenever possible, restrict access to your home only to members of your immediate household.
c. While outdoor recreation is not an essential activity, it can be permissible if you restrict the activity to only members of your household and maintain a strict 6-foot distance from any other individuals you may encounter while outside of your home.
d. Even when adhering to these guidelines, each essential outing presents an exposure risk. Be mindful to limit essential outings as much as possible.
2. Any individual who has symptoms of respiratory illness should immediately selfquarantine and call their healthcare provider to discuss appropriate testing.
a. Not all individuals are candidates to be tested for COVID-19. Employers concerned about an employee's health should rely on the recommendation of the employee's healthcare provider regarding their ability to work.
3. All residents should continue to adhere to the Centers for Disease Control and Prevention's (CDC) recommendations on infection prevention, including washing your hands for a full 20 seconds after touching any non-sterile surface and maintaining a strict 6-foot distance between individuals at all times.
a. Per the CDC's recommendation, wear a cloth face covering while engaging in essential activities outside of your home. Please note, you should still maintain a strict 6-foot distance between individuals at all times, even when wearing face coverings.
Free Meals Update – April 9, 2020

This week Tues- Thurs & the following Tuesday, hot meals will be served from 11am – 1pm. We will not provide a meal on Friday (4/10) or Monday (4/13) due to Easter. Beginning Wednesday 4/15 you will receive 5 meals for the week. These meals will not be hot meals. Each Wednesday you can pick up your 5 meals between 11am-1pm. Students are encouraged to be present but do not have to be present. We will just ask for their names.
We are hoping this will help meet the need in our District for meals as well as limit the exposure of parents, staff, and students. We appreciate you all and want everyone safe. Thank you for being patient with us as we roll out phase two of mobile feeding.
State Survey from Department of Health - April 6, 2020
TALLAHASSEE, Fla. - Today, the Florida Department of Health (DOH) announced the launch of a new community action survey, StrongerThanC-19, designed to aid Florida as the state continues to fight the spread of COVID-19. This cutting-edge tool gives residents the power to unite in the fight to help slow the spread of coronavirus in Florida.
Governor Ron DeSantis said, "In addition to helping our state better identify and predict coronavirus trends in Florida, the StrongerThanC-19 community action survey will also guide users through the next 'STEPS' of preparedness and prevention measures. This will serve as another crucial instrument in helping to reinforce Florida's ongoing efforts to fight the spread of COVID-19 across the state."
Florida Surgeon General Scott Rivkees said, "We are asking residents to take two minutes out of their day to take the StrongerThanC-19 community action survey and answer the brief series of questions provided. The responses will be used to help the Department improve the distribution of resources to support healthcare and other initiatives across the state."
Florida residents are encouraged to do their part in helping Florida flatten the curve by anonymously answering questions that range from age and residency, to recent travel, to potential COVID-19 contact. The StrongerThanC-19 community action survey is designed to gather information to help the Department track and slow the spread of COVID-19 in Florida; it is not a symptom checker designed to dispense medical advice. The StrongerThanC-19 community action survey is free to use and can be accessed by visiting: www.StrongerThanC19.com.
Student State Assessments
The Florida Department of Education (FDOE) has announced that all PK-12 student state assessments will be cancelled for the 2019-20 school year. FDOE will provide guidance to school districts in the near future regarding any potential impacts for students. As the district learns more information we will share this with our community.
State School Grade Designations vs. Student Grades
The Florida Department of Education (FDOE) has announced that all school grade designations will not be calculated for schools for the 2019-20 school year.
Students will continue to earn grades based on their progress in their classes. Student grades and credits will continue to count toward promotion and/or graduation.
Mental Health Services
If you or a family member is having problems please check out our resources on our Mental Health Page.